Airport Travel
When flying to San Francisco, there is a choice of three airports in the City by The Bay area: San Francisco International Airport (SFO), Oakland International Airport (OAK), and Norman Y. Mineta San José International Airport (SJC).
Congress Venue
Hyatt Regency San Francisco
5 Embarcadero Centre
San Francisco, CA  94111
USA
Located in downtown San Francisco, the hotel is only steps away from the California Street cable car line stop, ferry terminals and BART stations.
From San Francisco International Airport (SFO)
San Francisco International Airport is an international airport 13 miles south of downtown San Francisco. It has flights to points throughout North America and is a major gateway to Europe and Asia.
BART (Bay Area Rapid Transit)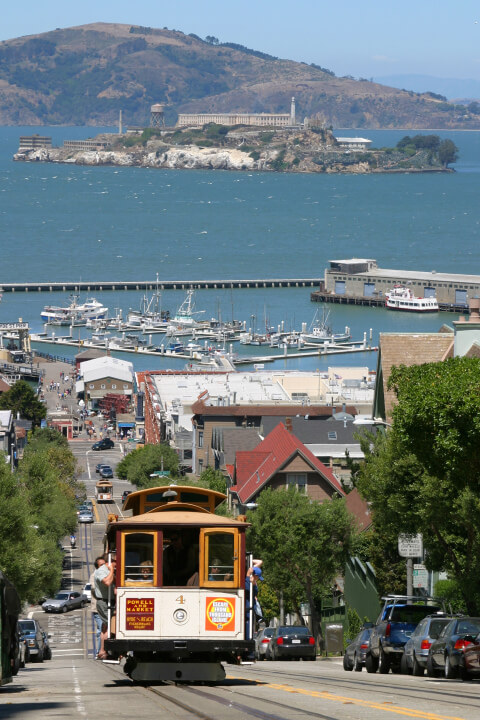 BART rapid rail is a fast and inexpensive way to get from SFO to San Francisco. After picking up your luggage, look for signs for AirTrain, the free tram service. Take either the Red or Blue AirTrain line to the Garage G and BART stop in the International Terminal. Hop on the BART train going to Antioch, as shown by the yellow line on the BART map.
BART costs are associated with how far you travel; the greater the distance, the higher the fare. Buy your ticket at ticket machines at the SFO BART station. Then place your ticket at the designated slot on an entry faregate. When it pops out from the top slot, remove it to open the gate and board the San Francisco/Antioch train. When you arrive repeat the same procedure to exit the station. If you don't have enough value on your ticket to exit don't worry. You can add money to the ticket to exit at the Add Fare machine in the station.
You can also purchase a BART SFO Voucher in advance to save time. The $21 voucher has enough value for a round-trip BART ride from SFO to downtown San Francisco, downtown Oakland or downtown Berkeley, plus a small balance you can apply toward another ride on the BART system. Note, this ticket voucher must be exchanged at the special SFO Information Desk before you go to the BART station. Clipper Cards ($3 surcharge) are also available for purchase at designated ticket machines in BART stations.
SFO trains arrive and depart three to four times per hour until 11:50 p.m. daily. The ride to downtown San Francisco takes about 30 minutes. Visit BART's website for more information.
Ride-Sharing Apps
With app-based transportation services, including Lyft and Uber, you can arrange to ride with drivers using their personal, non-commercial vehicles via smartphone. These services pick up passengers at the curb on the Departures/Ticketing Level of all terminals. Fares and travel times vary according to demand and traffic, but it typically takes 30 minutes and costs approx. $30-40 to get from SFO to popular San Francisco neighbourhoods like Union Square.
Shared Van & Shuttle Service
Several privately-owned, shared-ride vans provide service between SFO and passenger-specified locations. The one-way rate from SFO to the city centre is approximately $17. Depending on the number of passengers, shared ride vans may make multiple stops, so the travel time can vary from 35-90 minutes. In the Domestic Terminals, shuttles pick up passengers' curb side on the Arrivals Level terminal. In the International Terminal, passenger pick-up is on the Arrivals Level roadway centre island.
Taxis & Limousines
SFO is served by a number of taxi and limousine companies. Taxis depart from roadway islands on the lower level outside the Arrivals/Baggage Claims area in all terminals. Uniformed taxi coordinators work from 7 a.m. until 1 a.m. to ensure a smooth process for travellers. All cabs are metered. The travel time to popular drop-off points in downtown San Francisco is usually around 30 minutes (depending on traffic) and fares range from $45-60.
For a limousine, arrange service in advance with your company of choice or upon arrival via the Lodging, Transportation and Attraction Boards, which provide free phone connections to participating limousine operators. These boards are located on the Arrivals/Baggage Claim Level of all terminals. Contact the service provider for pricing and availability.
SamTrans Buses
The San Mateo County Transit Agency (SamTrans) runs public buses between SFO and downtown San Francisco's Transbay Center on the KX, 292, 397 and 398 lines for $2-$5 one-way for adults. Find SamTrans bus stops in the following locations at each terminal:
Terminal 2: Arrivals/Baggage Claim Level, center island adjacent to Courtyard 2.
Terminal 3: Arrivals/Baggage Claim Level, curbside adjacent to Courtyard 4.
International Terminal: Level 1 at Courtyard A and curbside adjacent to Courtyard G.
From Oakland International Airport (OAK)
Oakland International Airport in Oakland, California is the Bay Area's second largest airport with 13 airlines offering nonstop service to a growing list of 55 international and domestic destinations. It is situated on the other side of San Francisco Bay.
BART (Bay Area Rapid Transit)
Taking BART from OAK is an easy and low-cost option to get to San Francisco. After you've picked up your luggage, look for BART signs in the baggage claim. The station is located across from the Terminal 1 baggage claim area and a short walk from Terminal 2. Board a train for the quick eight-minute ride from OAK to the BART Coliseum station, where you can transfer to the BART train bound for your final destination in San Francisco.
OAK trains depart every 5 minutes from 8 a.m. to 8 p.m. daily. Service is less frequent at other times. Round trip BART fares from OAK to San Francisco, downtown Oakland or other East Bay cities are less than half the cost of taxis or shuttles to the same destination.
Ride-Sharing Apps
Smartphone app-based transportation services like Lyft and Uber serve OAK, providing rides via drivers in their personal, non-commercial vehicles. Arrange your ride via the app, and then follow the signs for Smartphone App Rides in Terminals 1 and 2. Drivers wait for passengers on the second curb of the pickup area. Fares and travel times vary according to demand and local traffic, but a typical ride from OAK to SFO takes approximately 45 minutes and ranges in price from $30-45.
Shuttle, Taxi and Limo Service
Prices vary for shuttles, taxis and limousines from OAK to San Francisco. There are multiple options and special prices for traveling groups. For further information, please visit the website.
From Norman Y. Mineta San José International Airport (SJC)
Mineta San José International Airport is located in the heart of Silicon Valley.
Caltrain
Caltrain provides commuter rail service along the San Francisco Peninsula. To get from the San Jose Airport to the Santa Clara Caltrain Station, take the Airport Flyer-VTA Route #10 bus. The Airport Flyer makes a continuous loop between the Metro Light Rail Station, the Santa Clara Caltrain Station and the Airport Terminals. A new shuttle departs each designated stopping point approximately every 15-30 minutes from 5 a.m. to 11:30 p.m. One-way fare is $2.
Caltrain fares are based on the number of zones that are partially or wholly travelled through by the passenger. There are two Caltrain stops in San Francisco: 22nd Street and Fourth Street. Both are in Zone 1. Allow a minimum of 60 minutes to arrive in San Francisco. Occasionally, the trip might take longer. For more information, see the following link.
Shuttles
Prices vary for shuttle service from SJC. There are also multiple options and special prices for traveling groups.
Getting Around San Francisco
San Francisco is made up of 49 square miles of long boulevards, curvy streets, hidden alleyways and lots of hills. Getting around the city without a car is not only easy and affordable, it's actually more convenient 99% of the time. Driving in the city can be challenging and parking fees are costly.
Clipper Card
The Clipper Card is an easy way to use the various modes of public transportation throughout San Francisco and avoid severe Bay Area traffic congestion. Purchasing this pre-loaded card gives you access to BART, Muni buses, Muni Metro, and cable cars. When you board, hold the card over a scanner and listen for the beep to make sure that you have an adequate balance on your card for your fare. Be warned: fines are steep and Muni personnel check frequently for fare evasion. Cards can be bought at multiple locations and refilled at Muni/BART stations.
BART (Bay Area Rapid Transit)
BART is the quick, easy traffic free ride to San Francisco, Oakland, Berkeley, and many East Bay cities. BART's 3-4 trains per hour get you to San Francisco in just 30 minutes. BART is also the fast, inexpensive way to get to many Bay Area cities beyond San Francisco.
Most downtown SF hotels are located within six blocks of a BART station (Civic Center, Powell Street, Montgomery Street, and Embarcadero). Many San Mateo County and SFO area hotels are a short ride via shuttle, taxi or Uber and Lyft to either the Millbrae, San Bruno or South San Francisco BART stations.
Visit BART's website for more information.
Muni
Muni is San Francisco's bus and metro system that runs throughout the city, operating buses, trains, cable cars and the F-line heritage streetcar. Muni buses remain above ground and on streets while Muni Metro runs on rails and sometimes go underground. Bus stops come in many forms: small bus shelters, yellow paint on street poles, and white paint on streets. Metro stops can be found on an island in the middle of the street and in underground stations. Using the Metro Map, find the nearest Metro to your location. For all Muni routes and times, you can call 511. There are also many smartphone apps, including the 511 SF Bay Transit Trip Planner app, that provides maps, routes and times.
Cable Cars and Street Cars
Cable cars and street cars are San Francisco's historic public transit cars. Cable cars are located downtown and run on three lines: Powell-Hyde, Powell-Mason, and California Street. The F-Line streetcar runs up and down Market Street all the way to Fisherman's Wharf. Pay the conductor onboard or purchase tickets in advance at multiple locations or via smartphone using the MuniMobile app. Exact change is your only option when you are onboard the vehicles.
Ride Sharing
There are a few on-demand car services to choose from, most of them started by San Francisco locals. To use them, you must first download the app, register, and set up a credit card payment system. Uber and Lyft both offer options to request a private car service as well as shared car options for a discounted rate, such as Lyft Line and uberPOOL. To use these services, set a pick-up location and destination in the app. Within minutes, you will be matched with a driver. Make sure to communicate with your driver; call, text, or wave down their car and always confirm that you are getting in the correct vehicle.
Taxi
As is customary in most U.S. cities, visitors may hail a taxi directly or use a smartphone app.
San Francisco Visitor Passport & CityPASS
If you are staying for more than one day, Visitor Passports and CityPASS are useful because they provide unlimited rides on Muni, Muni Metro, historic streetcars and cable cars for three consecutive days. There are multiple locations throughout the city where you may purchase tickets and day passes, including the San Francisco Travel Visitor Information Center, where the VIC staff and volunteers curate the San Francisco experience, providing one-on-one interaction with visitors from around the world. Find the VIC at the Powell and Market cable car turnaround at 900 Market St.