San Francisco is located in Northern California. It is surrounded by the Pacific Ocean and San Francisco Bay. This picturesque city is known for its fog, tolerance and diversity, cultural innovation and experimentation, and cutting-edge high-technology firms.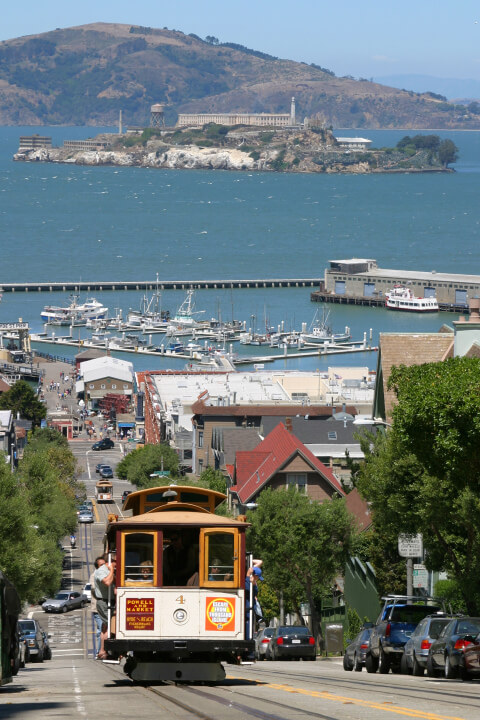 Time Zone
San Francisco's time zone is PDT (Pacific Daylight Time) / UTC – 7 hours
Weather
The weather in September in San Francisco averages a high temperature during the day of around 70 degrees F (21 C). The average lows are around 55 F (13 C).
Currency
The currency in San Francisco is the US Dollar $.
Getting Around
San Francisco is made up of 49 square miles of long boulevards, curvy streets, hidden alleyways and lots of hills. Getting around the city without a car is not only easy and affordable, it's actually more convenient 99% of the time. Driving in the city can be challenging and parking fees are costly.
Muni
Muni is San Francisco's bus and metro system that runs throughout the city, operating buses, trains, cable cars and the F-line heritage streetcar. Muni buses remain above ground and on streets while Muni Metro runs on rails and sometimes go underground. Bus stops come in many forms: small bus shelters, yellow paint on street poles, and white paint on streets. Metro stops can be found on an island in the middle of the street and in underground stations. Using the Metro Map, find the nearest Metro to your location. For all Muni routes and times, you can call 511. There are also many smartphone apps, including the 511 SF Bay Transit Trip Planner app, that provides maps, routes and times.
Cable Cars and Street Cars
Cable cars and street cars are San Francisco's historic public transit cars. Cable cars are located downtown and run on three lines: Powell-Hyde, Powell-Mason, and California Street. The F-Line streetcar runs up and down Market Street all the way to Fisherman's Wharf. Pay the conductor onboard or purchase tickets in advance at multiple locations or via smartphone using the MuniMobile app. Exact change is your only option when you are onboard the vehicles.
Ride Sharing
There are a few on-demand car services to choose from, most of them started by San Francisco locals. To use them, you must first download the app, register, and set up a credit card payment system. Uber and Lyft both offer options to request a private car service as well as shared car options for a discounted rate, such as Lyft Line and uberPOOL. To use these services, set a pick-up location and destination in the app. Within minutes, you will be matched with a driver. Make sure to communicate with your driver; call, text, or wave down their car and always confirm that you are getting in the correct vehicle.
Taxi
As is customary in most U.S. cities, visitors may hail a taxi directly or use a smartphone app.
San Francisco Visitor Passport & CityPASS
If you are staying for more than one day, Visitor Passports and CityPASS are useful because they provide unlimited rides on Muni, Muni Metro, historic streetcars and cable cars for three consecutive days. There are multiple locations throughout the city where you may purchase tickets and day passes, including the San Francisco Travel Visitor Information Center, where the VIC staff and volunteers curate the San Francisco experience, providing one-on-one interaction with visitors from around the world. Find the VIC at the Powell and Market cable car turnaround at 900 Market St.
https://www.sftravel.com/article/how-get-around-san-francisco-transportation-basics